Vice President Jejomar Binay emerged as the top choice for president based on the latest BusinessWorld-Social Weather Stations pre-election survey conducted early this month.
The results of the survey, conducted from Jan. 8 – 10 on 1,200 validated voters, showed that Binay got the nod of 31 percent of the total respondents. The figure was five percent higher compared to the one he obtained in the previous SWS survey on presidential candidates in December: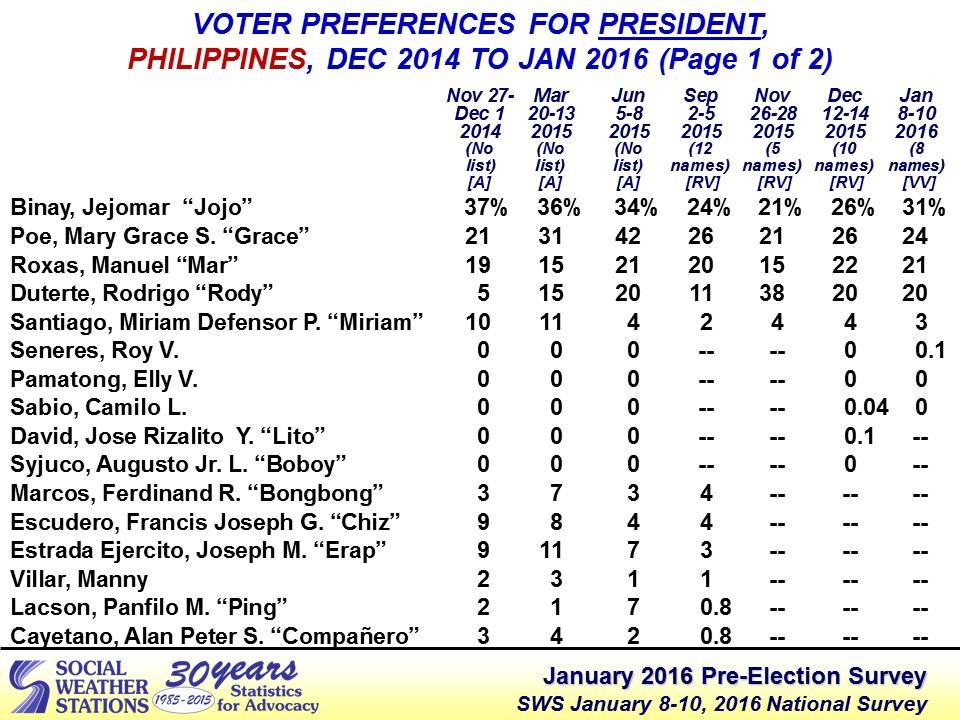 Sen. Miriam Defensor Santiago, meanwhile, got three percent, which was a percentage point lower compared to the one she obtained in December.
The nationwide survey had a margin of error of ±3 points for national percentages and ±6% each for Metro Manila, Balance of Luzon, Visayas and Mindanao.
The SWS defined a  validated voter as "a registered voter whose biometrics have been captured digitally (i.e., digital images of his/her photograph, fingerprints, and signature have been recorded) by the VRM." Per Comelec Resolution No. 9721, "only validated voters will be allowed to vote in the 2016 elections," it added.
Among the national issues that took place at the time the survey was conducted were the word war between Comelec chair Andres Bautista and Commissioner Rowena Guanzon over the poll body's comment to the Supreme Court regarding the disqualification cases of Poe, the announcement of the reopening of the Mamasapano probe and Malacanang's decision to keep Transportation Secretary Joseph Abaya despite calls for his resignation.
Pulse Asia
In December, Pulse Asia released its survey results on the 2016 presidentiables. It showed Binay regaining the top spot in the presidential race with 33 percent of the 1,800 respondents saying they will vote for him as president if the elections were held during the survey period from December 4 to 11, 2015.
In second place were Duterte with 23 percent and Poe with 21 percent. They were closely followed by Roxas with 17 percent, and Santiago with 4 percent.
But in a phone interview with GMA News Online at the time, Pulse Asia Research Director Ana Maria Tabunda said Poe and Roxas can be considered as in a tie. — BAP/RSJ/TJD, GMA News
– See more at: http://www.gmanetwork.com/news/story/551322/news/nation/vp-binay-leads-presidentiables-in-latest-sws-survey#sthash.U3aafZAI.dpuf